Our Fencing Services
When we set the business up back in 2007, Fencing was all we did – we specialised in it then, and obviously still do now.
Over the last 10 years we've become experts in the field of fencing and consistently receive fantastic feedback and some great customer referrals on the "strength and quality" of our fencing work!  We've installed pretty much every type of fencing – picket, closeboard, post and rail, post and panel, waney board, stock fencing including deer fence, metal chainlink, cleft chestnut fencing, hazel hurdles – as we say, pretty much every type!
We also supply and fit gates – they can be made to measure, for pedestrian or vehicle access, security gates or simple picket gates.  We are also able to install automated gates including solar powered.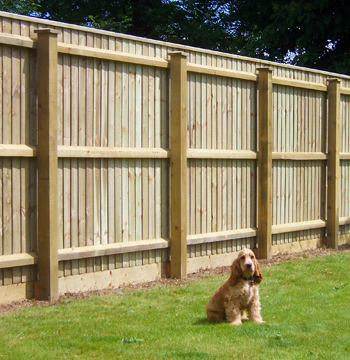 Closeboard Fencing
Also known as featherboard fencing, a nice looking, strong and versatile fence. Closeboard fencing consists of individual vertical pales that are overlapped on a frame of horizontal rails.  This means they can be designed and installed at heights and widths to suit you.  This type of fence is very common due to its strength, affordability and flexibility.
Picket Fencing
The most iconic and pretty style of fencing – a traditional picket fence can be used in numerous ways and can really add character to any garden or outside space. All our fences are treated to protect them from the elements but these look fantastic painted in a colour of your choice to add interest or match in with other exterior woodwork. Our picket fencing tends to be made by ourselves to a very strong standard to some pre-made panels. This gives our customers great flexibility in the style of picket fence such as picket spacing and height, rail thickness and type, round/pointed/flat top etc.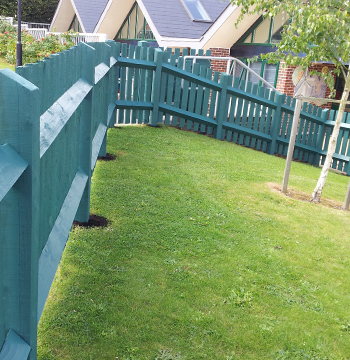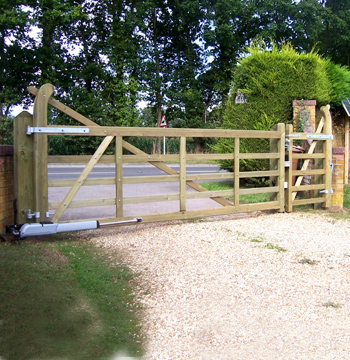 Gates
We supply and fit gates of all types made from softwood, hardwood or metal. They will either be sourced from our quality suppliers or made by our own (ahem,) fair hands. Whether you need entrance gates, side gates, pedestrian or vehicle access, security or simple picket gates, they can be made to measure. We are also able to automate your gates to make life just that little bit easier. Sometimes if the entrance gates are a distance from any power supply a solar panel may be a more cost effective solution…  We have installed many field gates along with kissing gates and different sized metal mobility gates.
Post & Panel Fencing
Possibly the most common style of domestic fence, mainly due to its affordability. There are many different types of fence panels available that are fixed between timber fence posts. Basic panels are called lap panels and usually serve a purpose of creating a boundary fence, then a step up would be closeboard panels which are much stronger. There are also a range of decorative panels if you have a more distinctive look in mind. We are happy to discuss options here and cost difference between running closeboard fence which is a common choice for customers to make.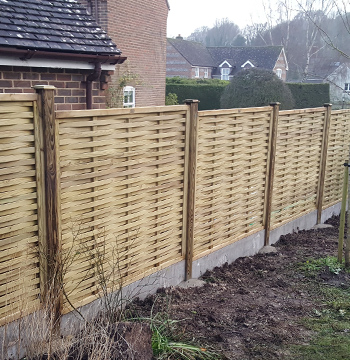 Post & Rail Fencing
A common fence used in more rural areas. Can be used in conjunction with stock fence which can provide a more formal looking stock proof fence. There are a few options here which we commonly use, from varying rail and post types to timber types. Softwood is still most widely used but we can also offer chestnut post and rail which provides a great looking long lasting but fairly rustic looking fence. Cleft chestnut rails can also be used with morticed oak posts for a slightly less rustic look.    
Post & Wire Fencing
Usually this fence is to form a long distance boundary stock fence. The wire is tensioned between straining posts with intermediate posts. We more commonly use chestnut for this type of fence to give the fence a longer life. The fence can be installed with varying heights of wire up to 1.8m which we have installed as a deer or fox proof fence. We can install mild steel, high tensile and barbed wire.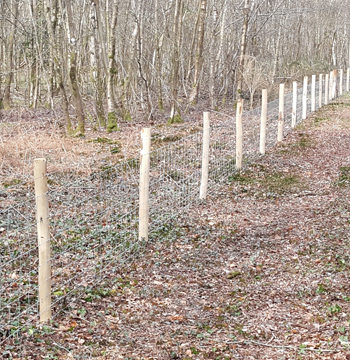 Drop us a line
Give us a shout with the form below and we can give you a call back to discuss your requirements and arrange a no-obligation site visit.
JP Fencing & Landscaping
For all your commercial, private and domestic gardening, fencing and landscaping requirements.
30 Haycombe, Durweston, Blandford Forum, Dorset DT11 0PZ
T: 01258 720324   |   M: 07908 866178   |   E: info@jp-landscaping.co.uk