Our Landscaping Services
JP Landscaping & Fencing began life as JP Fencing in 2007, however, over the years we've expanded to offer a full range of Landscaping services.  This was a natural progression, although has been kick-started by our loyal (and obviously very happy), customers who have asked us back time and again to work on new garden projects – something that we were, and are, very happy to do!
We've enjoyed working on a variety of landscaping projects including total garden makeovers, deck areas, ponds, pergolas, patios, pathways, driveways and custom timber buildings.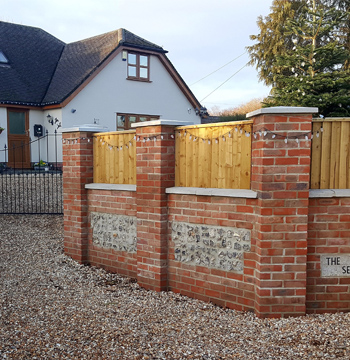 Brick & Stone Walls
There are a number of different types of walling to choose from, all of which we can help with.  Whether it's a functional retaining block wall, to large garden brick walls or a decorative element in your garden such as dry stone walling, there are various options to consider.  Both a natural stone and brick element can really add character to your outside space.  We can take into account your style, budget and surroundings to build and advise you accordingly – should you need it. Or, if you know exactly what you're after then we will source supplies of the best quality we can find at the best price we can offer it to you.
Decking
There's nothing like reclining in the sun with a nice cold (insert your choice of tipple here), or perhaps chatting with friends over a mulled wine around a chimenea on your decking!
The options here are endless – Wood? Composite? Square? Curved? Elevated? Split levels? A balustrade? Built in planters? Built-in pond with bridge? A backdrop of jasmine or honeysuckle climbing up the wall behind you? Deck lights and anti-slip options?  It's your choice – tell us what you'd like and we can turn your decking dreams into reality.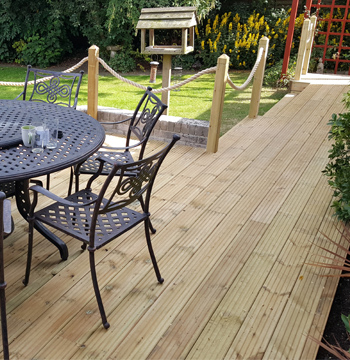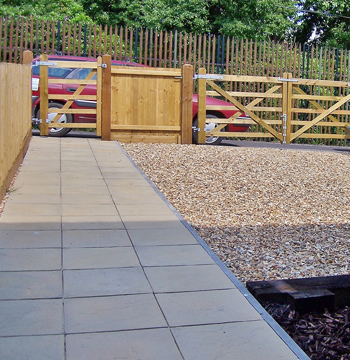 Driveways & Paths
Another great way to add to the curb appeal of your property is to update your driveway.  We have experience in a range of driveway options from gravel, slab or block paving.  We make sure the ground is prepared correctly and that your driveway meets your expectations and really complements your home.  Adding or redefining a path can be really important aesthetically or sometimes a necessity.
Groundwork & Excavation
Most of the groundwork and excavation we do is in preparation for our landscaping work.  This often involves earth moving and grading, or pulling out an old hedge.  With our experienced digger operator we can offer many types of excavation work from digging ponds and soakaways to footings and foundations.  We also install land drains, water pipes or armoured cable.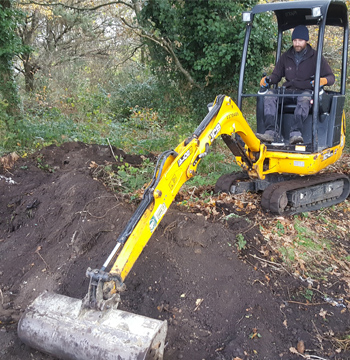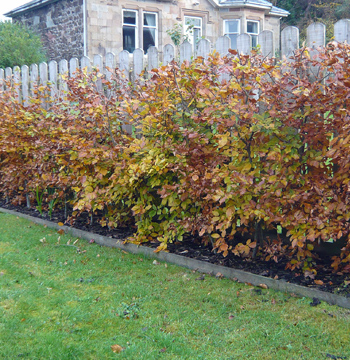 Hedging & Planting
We must admit that we really appreciate a healthy looking Beech or a glossy Laurel hedge! However, we're experienced at planting up new hedging of various types and are happy to advise on what species will suit your needs best. We take into consideration the ground / soil types, location and the desired function and look of your hedge. So whether you're looking to mark a boundary or section, to create some privacy, to add a visual element or even to reduce noise then we are here to help.
We can also assist with planting in borders and beds, maybe you know what you're after but don't have the time, (or inclination!), to do it yourself so why not let us do you the hard work while you observe, (and maybe bring us the odd cuppa). Or, we can provide suggestions that will give you a beautiful cottage garden, formal garden or a beautiful wall or pergola of climbers.
Lawns & Turfing
Who doesn't love a healthy green, weed-free lawn? Whether you're looking for an instant effect with fresh new turf, or artificial grass (yes, really! There have been massive improvements since astroturf!), or you're happy to wait for some well sown grass seed to grow then we're here to help.  As with all planting we do, we'll ensure the variety of grass that you choose is suitable for the ground in your garden and that the earth is always prepared correctly.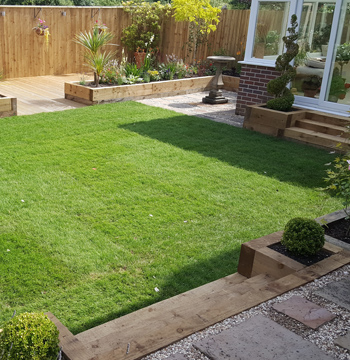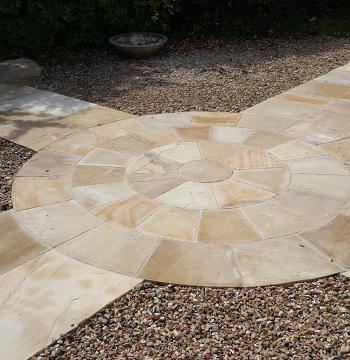 Paving
A lot of the work we do involves paving with most gardens having a patio or some paved area.  Paving can provide you with a long term low maintenance area of the garden, which can be ideal for a seating area or paths.  We tend to install a variety of slabs ranging from value to premium concrete pressed slabs to natural stone.  Sandstone has become more and more popular being more affordable to customers and really adding something special to your garden.  We are specialists in laying natural stone as you can see in our work photos.
Pergolas
Perfect for creating an outdoor "room" to eat, sunbathe or play! These can be made to measure and situated on a lawn, decking or patio area.   They are most commonly used in conjunction with a decked area.  You can choose to leave it open to let the sun in or to have a slated timber "roof" or train some climbers across to provide shade.  The options are endless – just tell us what you'd like to achieve and we'll turn your ideas into reality.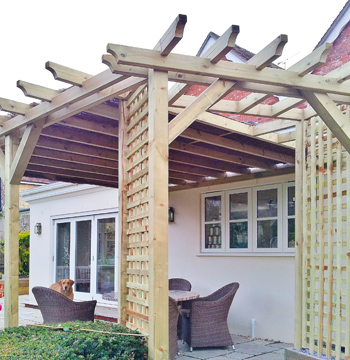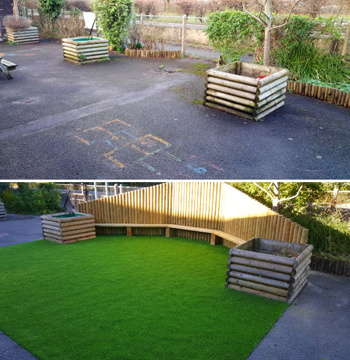 Play Areas
We've had the pleasure in developing children's play areas for customers and their own children to designated areas in Schools.  These usually involve play grade woodchip or a long pile artificial grass, rubber edging, and may include a playhouse, seating or planting areas.  We're happy to build these safe play areas.
Tree Surgery
Our work commonly involves an element of tree surgery, whether it's just some pruning to felling. We have a very experienced Arborist to hand that can help with all aspects of tree surgery from large tree felling, crown reductions and pollarding. We can also quickly clear areas of dense vegetation if needed using a wood chipper and remove or kill any tree stumps if required.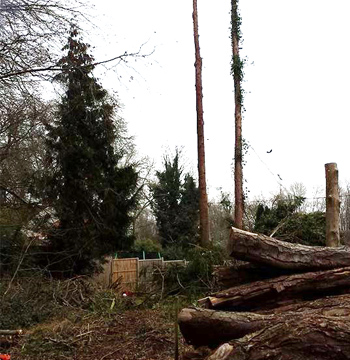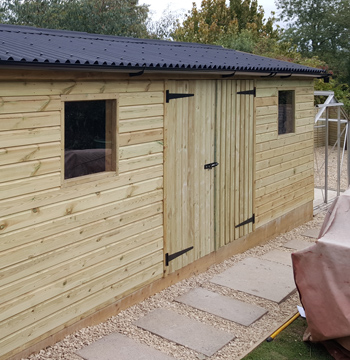 Timber Buildings
Along with erecting various summer houses, sheds and flat-packed buildings, we pride ourselves on our custom builds. These can be designed for your specific needs and can always be made stronger than flat-packed out-buildings. We can build to any size and shape with varying roof pitches and heights, with as many windows and shelving that you would like. We can also install with lighting and power sockets, and with our qualified electrician to hand have it connected to the house and safety checked. Take a look at our large sheds/barns and a rather special breeze house.
Garden Maintenance
Customers sometimes ask us about garden maintenance. We currently keep a select number of gardens under maintenance and will always consider your garden if maintenance is what you require.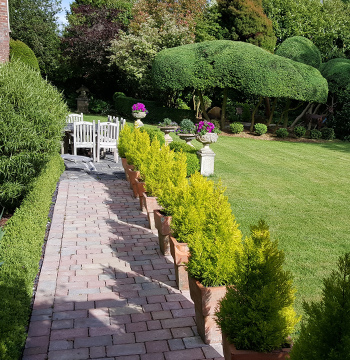 Drop us a line
Give us a shout with the form below and we can give you a call back to discuss your requirements and arrange a no-obligation site visit.
JP Fencing & Landscaping
For all your commercial, private and domestic gardening, fencing and landscaping requirements.
30 Haycombe, Durweston, Blandford Forum, Dorset DT11 0PZ
T: 01258 720324   |   M: 07908 866178   |   E: info@jp-landscaping.co.uk